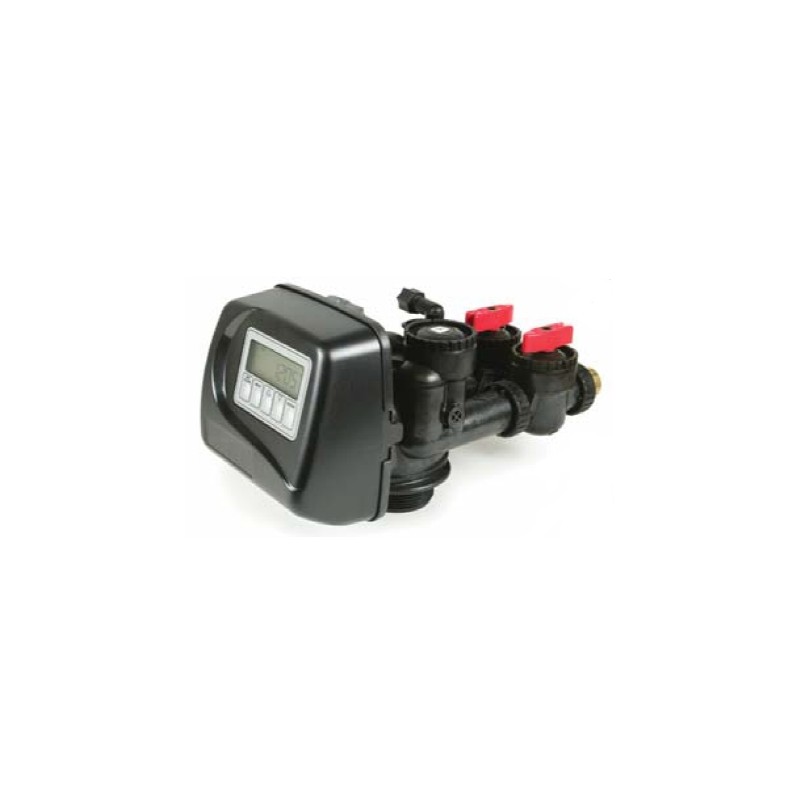  
Pro1032 Up-flow Valve
Pro1032 - 1" Up-flow Metered Softener Valve
Security policy - Our web site features secure checkout with PayPal!

Delivery policy - We always ship your products by the fastest possible carrier.

Return policy - Call for RMA to setup returns and warranty information.
Pro 1032 - 1" Up-flow Metered Softener Valve. The Pro 1030 series water softener control valves are a 1" Electronic Program Valve. These control valves are equipped with an electronic control board that has a 6-cycle controls with fully adjustable cycle times, delivering controlled backwash, down-flow brining / slow rinse, second backwash, fast rinse, refill and down-flow service. Treated water brine tank refill. Four methods to initiate regeneration; meter immediate, meter delayed, time clock delayed or pressure differential. This valve has a front panel display with totalizer.
This control valve is a direct replacement for the Clack WS-1 control valve. The AquaTek Pro line of control valves are the best in the water treatment and purification business and after 27 years of purification experience, we have found nothing better! The best controller on the market for water softener or other automatic chemical filter application.
Specifications:
Service Flow Rate: 17gpm @ 15 psi drop
Required Backwash Rate: 3.2 gpm
Regen Type: Meter Initiated (0-50,000 gal)
6 Cycle Adjustable Control
Electrical Power Requirements: 24vac/60hz
Warranty: 5 years control valve and 10 years on tanks
Dimensions (WxDxH): 31x19x59
Top Features:
The Pro 1000 series control valves employ simple hand tighten union construction for ease of installation and servicing. The Pro 1000 series control valves also feature complete 1" porting for higher flow rates and less pressure drop over older 3/4" control valves. Simple single stack piston and seal/spacer design insures ease of repair which, keeps labor costs at a minimum. Parts replacement are easily affordable as well.
Specifications:
Service Flow Rate: 17gpm @ 15 psi drop
Required Backwash Rate: 3.2 gpm
Regen Type: Meter Initiated (0-50,000 gal)
6 Cycle Adjustable Control
Electrical Power Requirements: 24vac/60hz
Warranty: 5 years control valve and 10 years on tanks
Advanced Performance Features:
Solid state microprocessor with easy access front panel settings
Modes of operation; upflow control
Double backwash feature offers optimum regeneration, cleaning ability, and efficiency
36 selectable pre-programmed regeneration cycles
Days override feature; 1 " 28 days available
Backwash and brining ability to 22" diameter tanks
Downflow/upflow regeneration
Stores system configuration and operation data in nonvolatile memory
Capacitor back-up with up to 2 hour power carry over
12-volt output AC Adapter provides safe and easy installation
Control valve design provides optimum service and backwash rates
Treated water regenerant refill
Reliable and proven DC drive